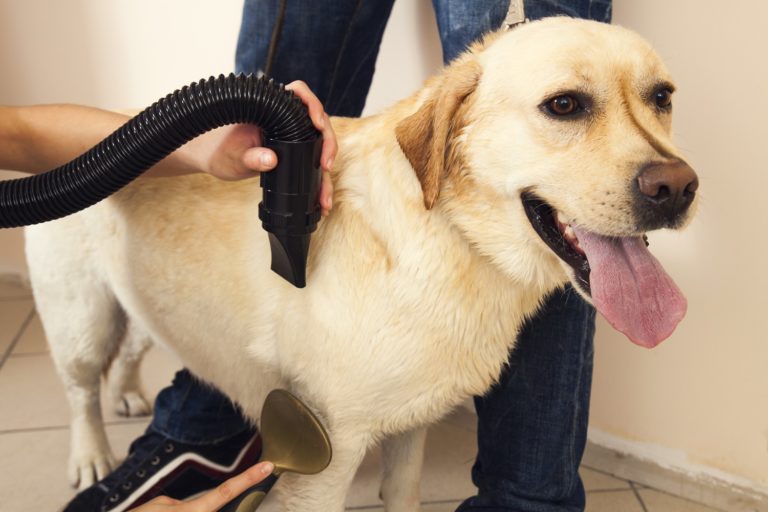 No one likes being wet, cold, and uncomfortable, least of all your furry friend. That's why a pet blow dryer is a must-have for any dog owner. Not only will it help your pup feel better after baths and rainstorms, but it will also cut down on the amount of time you spend drying them off. 
There are a lot of different pet blow dryers on the market, so it's important to do your research to find the best one for your needs. In this blog post, we'll give you a few things to look for when selecting a pet blow dryer, as well as our top pick. By the end, you'll be prepared to keep your canine comfy and dry all year long! 
What to Look for When Selecting a Pet Blow Dryer 
When selecting a dog blow dryer, there are a number of factors you'll want to keep in mind. First, consider the size and weight of the unit. If you have a small dog, you'll want to get a smaller unit that is easy to maneuver. Conversely, if you have a large breed dog, you'll need something with more power that can handle their coat. 
Next, take into account the features offered by different models. Some pet blow dryers come with adjustable temperature settings, while others have variable speed settings. There are also some that come with built-in timers or overheat protection features. 
 And finally, think about what type of nozzle or attachment you might need. Some models come with diffuser nozzles to help reduce frizz, while others have concentrated nozzles for targeted drying. Selecting the right attachment can make all the difference in how well your pet's coat dries! 
The Best Pet Blow Dryer on the Market Now that you know what to look for in a pet blow dryer, let's take a look at our top pick—the K9 III Variable Speed Dog grooming dryer from B-Air. This unit is powerful enough to tackle even the thickest coats, yet lightweight and quiet enough not use scare your pup during drying sessions. It also comes with two different nozzle attachments—one for targeted drying and one for diffusing—so you can get the perfect finish every time. Best of all, it's affordably priced without sacrificing quality or performance! 
Conclusion: 
A pet blow dryer is a must-have tool for any dog owner who wants to keep their pup comfy and dry. When selecting a pet blow dryer, be sure to consider factors such as size and weight, features offered, and attachments included. Our top pick is the K9 III Variable Speed Dog grooming dryer from B-Air—it's powerful yet quiet, comes with two nozzle attachments, and is affordably priced. Invest in a pet blow dryer today and say goodbye to wet Doggy days! 
Once you've purchased your pet blow dryer, it's important to use it correctly. Start by brushing out any tangles before using the dryer. Then, direct the airflow away from the pup's face and towards their body. You'll want to keep the nozzle at least six inches away from your dog's skin at all times to prevent overheating. Use adjustable settings to keep your dog comfortable—pups with long fur may need a higher setting than those with short fur!